Justice James
Justice James is a drummer, singer, songwriter and artist hailing from San Francisco. Growing up in a house filled with music, it was no surprise that Justice took to it as quickly as he did. What did surprise several influential people is his honest, raw, unfiltered talent and dedication to music.
Lucky Boys
At the age of 10 Justice started playing his elementary school talent shows always bringing down the house. At the age of 11 Justice started his first rock 'n roll band the Lucky Boys. he also took the lead vocal roll from behind the drumkit. After recording and co-producing the Lucky Boys debut album Justice was busy playing shows up and down the west coast.
The Young Barons
As Justice reached his teens, suddenly his voice began to change. Never one to slow down, Justice shifted into another gear and started an instrumental surf rock band the Young Barons.
The band enjoyed instant success as the youngest surf band to hit the scene.
Justice went right back in the studio and came out with the Young Barons debut album BITCHIN.
Hitting the charts
The Young Barons' single Squad Car held the #1 slot on surf rock radio for over a year, holding its own against some of the most famous surf bands.
The Young Barons soon caught the eye of Sharawaji records and were signed. Justice went right back in the studio and recorded the next Young Barons album titled Hella California released in the summer of 2020
Getting it done.
Justice has ben on multiple coast to coast U.S. tours and has shared the stage with legendary bands Social Distortion, X, Cadillac Tramps and The Blasters just to name a few.
Justice grew up listening to the greats every day, from Little Richard to the legends of Jazz the music never stopped. Influenced by early Rock n Roll as well as the big band swing era. Studying drums under Slim Jim Phantom, Rod Morgenstien, the Berklee college of music, Gregg Bissonette and currently with Daniel Glass, Justice has honed his skills and has become a stand out drummer with a style all his own. He is currently writing and recording his first solo album.
Bitchin'
Squad Car, the first single off Bitchn' shot to #1 on surfrockradio.com the week the album debuted, and didn't relinquish the coveted spot for an impressive 13 MONTHS.
The Young Barons are an aptly named surf music trio from Rockaway Beach (Pacifica). These surf classics are indeed, bitchin'!!
BUY IT ON VINYL →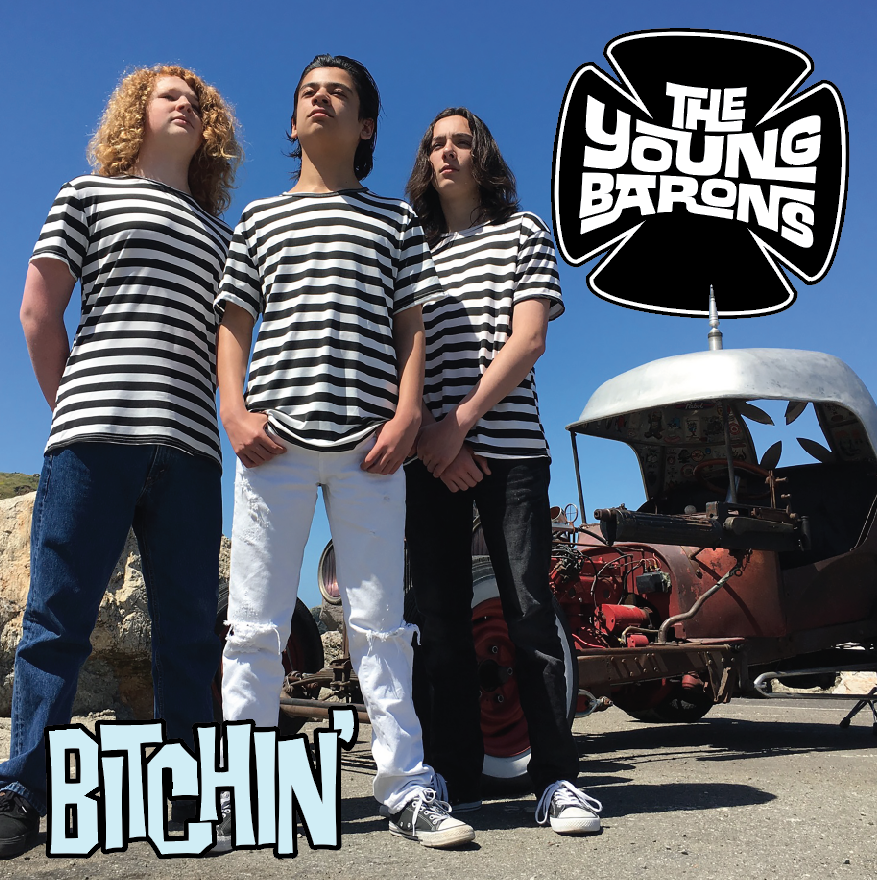 Hella California
Here's a clip from The Young Barons' follow up release with Sharawaji records, Hella California.
BUY IT ON VINYL →